Welcome to the Online Home of Avenal Sand Drags
Next Event: October 10-12 at Avenal Sand Drags.

Note: There will be racing action on Friday at this event, Download the ***Weekend Race Schedule*** (PDF File). Avenal Sand Drags is looking forward to the October race being a huge success. Hope to see everyone there.
October Race Event Documents
Event Weekend Schedule
Event Info Sheet
Event Entry Form
Avenal Sand Drags Rules
Event Flyer (Hi-Res PDF)

2015 Race Dates: The 2015 Avenal Sand Drags Race Schedule has been released. The dates will be April 25-26 & October 10-11.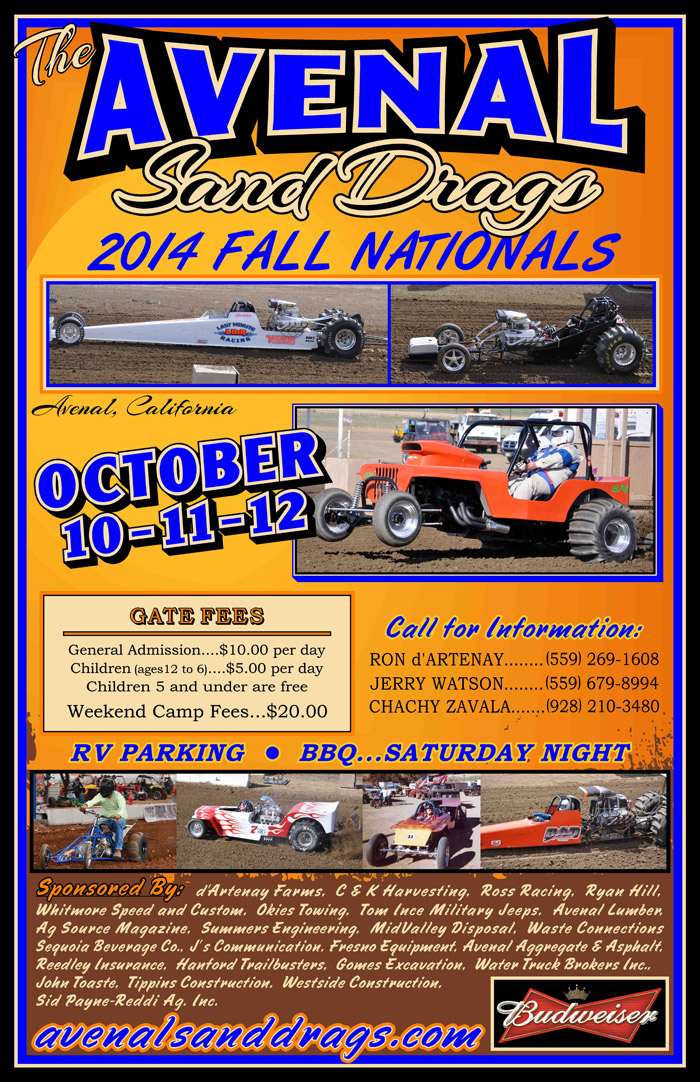 Download Hi-Res Flyer (PDF File)
Track Surface Improvement Photos: Avenal Sand Drags would like to thank Ron D'Artenay, Marc & Ralph Whitmore, Ron Moran, Ross Racing, and Tom Ince as well as all of the folks who trucked in loads of sand and loaned equipment. This project could not have taken place without the support of all who helped.
Avenal Sand Drags is a state of the art 300' sand drag racing facility located in Avenal, CA. The track is owned & operated by Avenal Sand Drags, Inc. We offer a great show with vehicles ranging from Top Fuel Dragsters to Race Jeeps to Pro ATV's all the way down to the 4 year old Junior racers. Bring the whole Family out for a great day of Sand Drag Racing entertainment. There are food vendors, permanent bleachers for seating, and it's FREE to roam the pits to visit your favorite racers.